News


Hazardous Waste Management (HWM) System
--St. Geo., GND The Grenada Bureau of Standards is now in the process of implementing a Hazardous Waste Management (HWM) System within the Bureau's Laboratory Services Division. Ms. Claudine Lalite has been appointed Hazardous Waste Coordinator within the Division. Hazardous waste is a waste with properties that make it dangerous or capable of having a harmful effect on human health or the environment. Some examples of hazardous waste are print toner, brake fluid, pesticides, chemicals, batteries and asbestos.
The Bureau intends to develop a technical regulation, which will outline requirements for the management and disposal of hazardous waste. Additionally, a certification program for other laboratories within the state of Grenada will be developed in the future. Consultancy services and training will also be offered to laboratories.
In August of this year (2017), the Bureau, along with other regional laboratories, participated in a training workshop on 'Hazardous Waste Management in Laboratories' held in Kingston, Jamaica. The workshop was a component of the project titled "Promoting Innovation in the Green Economy" with the objective of improving the conditions for the development of the Green Economy in Latin America and the Caribbean. Physikalisch-Technische Bundesanstalt (PTB) – the German National Institute of Metrology facilitated this workshop.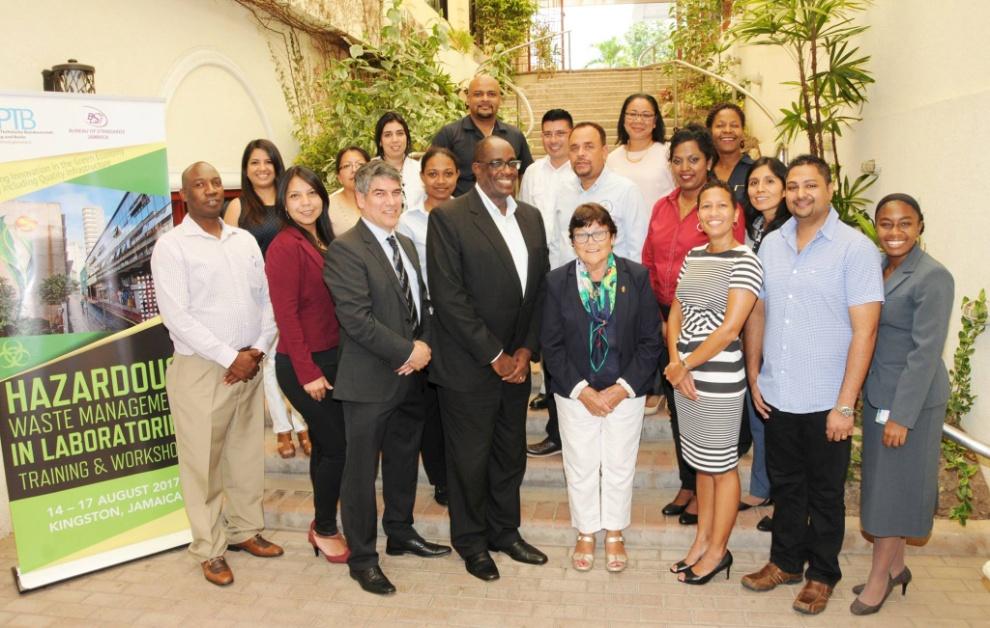 Ms. Claudine Lalite and Mr. Leonard St. Bernard with the trainers and other participants of the 'Hazardous Waste Management in Laboratories' workshop.
Once successful, the implementation of a Hazardous Waste Management System within GDBS will be a demonstration model to other laboratories within the state of Grenada. Consequently, the implementation of Hazardous Waste Management regulations will ensure that laboratories offer their services with a reduced negative impact on the environment.
The Grenada Bureau of Standards plans to facilitate sensitization activities in the upcoming months.
Contact:
Ms. Claudine Lalite
Grenada Bureau of Standards
Queen's Park, St. George's
Tel: (473) 440 - 5886